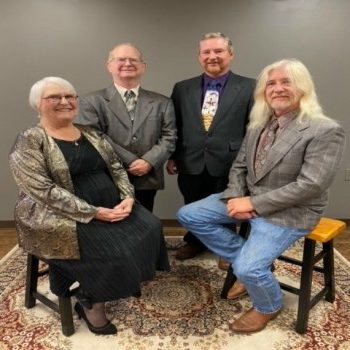 Damascus Highway started as a family group and remains so to this day.
Songwriter, Lead vocalist, and Lead guitar player, Rod Griffis, and his brother Carl Griffis, Drummer and vocals, founded the group in 2007. In the spring of 2011, their mother Belva Griffis joined them on Keyboard and vocals.

The Trio was missing a bass player. They began searching for the right bass player, and soon was introduced to a young man by the name of Blake Winsea about a year later as he joined us them on bass guitar. Blake eventually left the band and joined the U.S. Navy as he was called away.
Shortly thereafter, their brother Curtis joined to take over on bass guitar. Dss asmascus Highway are dedicated to the calling.
It is our hope that we can spread the message to all who will listen. These songs come straight from the throne of God.
Damascus Highway will go anywhere that asks us. We watch to see where God is working, and join Him in His work.
Our home church is Corinth Baptist Church, located in Cassville Missouri, where Rod is the Bass guitarist for the church.
Rod started writing songs many years ago. Then in July of 2007, Carl and Rod were invited to attend a fantastic weekend with the Branson Gospel Singer/Songwriters Association located in Branson Missouri.
This changed there lives. They were invited to bring there equipment, and perform with other Branson performers as backup musicians. Rod could feel the calling at that moment.
In 2008, God began to flood Rod with song after song, which he quickly penned as fast as he could. God has blessed this group in so many ways. We thank Him, and truly stand in awe of our great and wonderful God. We will lift Him up in praise any chance we get.
Damascus Highway is looking forward to what God has in store, and as we follow His leading, it is a lot of work. But it has been so worth it. To God be the glory, forever, and ever, Amen!
For Whosoever shall call upon the name of the Lord shall be saved!
Romans 10:13